Hi Everybody!   
I wanted to let you all know that I will be participating in Mattalou Shoe Boutique's Pop-Up Market this Saturday and Sunday in Long Beach, CA from 11am-4pm along with several other vendors in the local Long Beach community. Mattalou is on 4th Street and Ximeno next to Belmont Burgers.    
Alex Maltezos is the owner of the store, and when we spoke (via IG and eventually in person) I could tell she was all about supporting small business. Whenever I was in her super cute and chic shoe store turned art gallery and locally made goods treasure trove, I could tell she was all about show casing the hard work and talent of her Long Beach neighbors. Alex will literally refund your entry fee if you promote the event, how great is that! From experience, it is hard to get out there and promote for yourself and to pay fees to be a part of events such as this, but the way she runs her business and promotes not only her store and products but promotes the artist/maker as well as makes the process inexpensive, fast and fun. I really appreciate the opportunity she's given me, that is for sure. AND if you take the Shop Local Pledge in her shop, pretty much take a picture in front of her chalkboard door with the pledge, she will give you a sweet discount on your purchase in her store!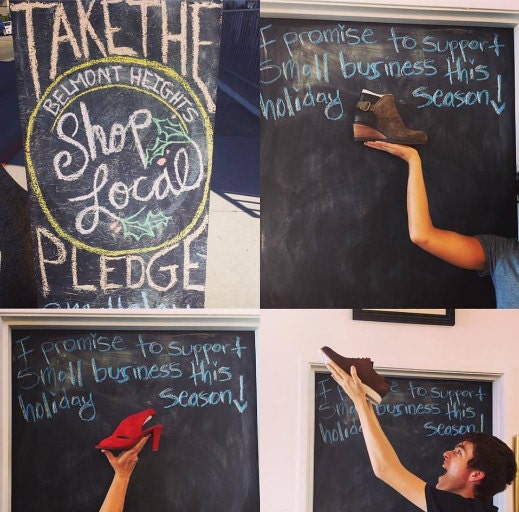 Photo Credit: Instagram @Mattalou_LB
There are several benefits to shopping small and local. Basically, the money you put into your community, stays in the community. Based on a study by the New Economics Foundation (NEF) based out of London, they found that twice the amount of money stayed within a community when people spent money at a local farmer's market as opposed to a supermarket. David Boyle, a NEF researcher says, "Money is like blood. It needs to keep moving around to keep the economy going." And when we purchase from supermarkets or department stores instead of spending money in the small mom and pop shops of our community "it (blood/money) flows out, like a wound."    
By shopping small and shopping local, you keep your community unique, items you buy in your town can't be found anywhere else. Also, it's been found that non-profit organizations receive on average 250% more support from smaller business owners than they do from large businesses.  And one of my favorite facts about the benefits of shopping from local businesses is that your carbon foot print is reduced! Instead of driving out to buy something from the mall, you can walk around the corner to the little boutique for a scarf. You can also contribute to creating more jobs in your neighborhood as small local businesses are the largest employer nationally.   
So this Small Business Saturday and Handmade Sunday, I implore you to step outside and walk down the block to your nearest farmer's market or pop-up shop and spend your money within your community. Ideally, if you live in Long Beach, California, come visit me, Alex, and several of the other artists and artisans at Mattalou Show Boutique's Pop-Up Market which will be held in conjunction with Belmont Height's Shop Local event.    
Below are some of the items you can buy at Mattalou Shoe Boutique from some of the artists and artisans that will be selling their goods this weekend! I bought a NaturAly candle from the Boutique last week, and I LOVE IT!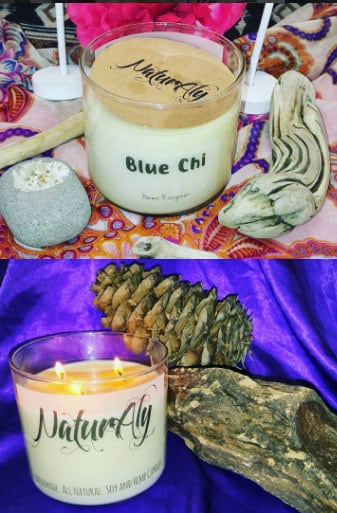 Photo Credit: Instagram @NaturAly_LB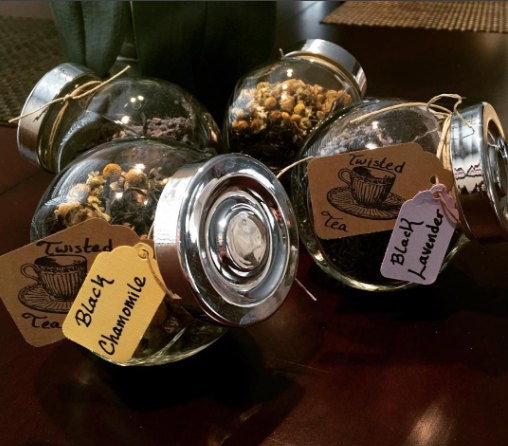 Photo Credit: Instagram @TwistedTeaCo